"Success is to be measured not so much by the position that one has reached in life as by the obstacles which he has overcome."
– Booker T. Washington
In high school, my parents gave me to option to have either a letter jacket or a class ring. At that time, and being a member of the band, it was a much cooler option to go with the jacket. I had a school letter to put on it and was able to fit in with so many other band and classmates at football games. It was more about fitting in for me during those years.
Fast forward to around 2008… I was in Chicago attending a required residency for my PhD program. There was a Jostens class ring table set up for a few days of the event, allowing learners to take advantage of purchasing their cap and gown, graduation invitations, class rings, and more. I was still a couple years out from graduation, but for some reason I was yearning for a class ring. My thought was that I would start wearing it once it was delivered to keep up the motivation to finish my program. I splurged and bought a beautiful ring, with the maroon colored stone for my university's color, the letters PhD on one side and 2010 on the other side, and a little diamond chip on either side too. When it was delivered, I was ecstatic and began wearing it proudly.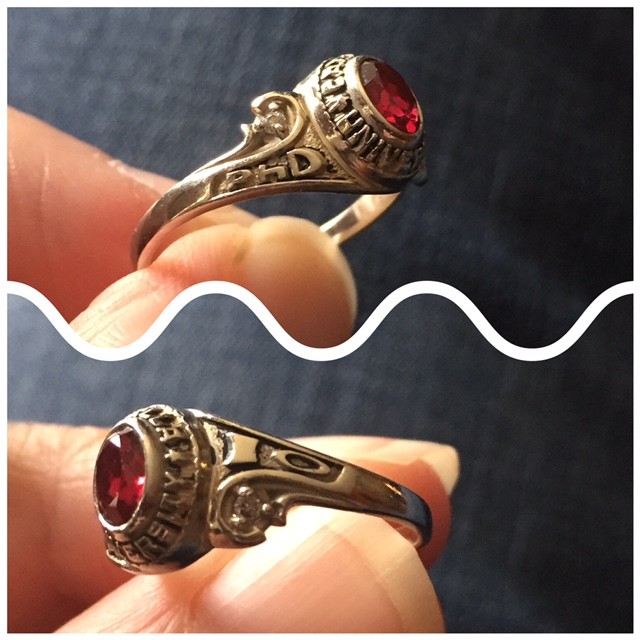 What happened from there? You guessed it – life happened. While the ring was a piece of motivation to me, it wasn't enough to get me to the graduation stage in 2010. That year came and went and I remained at the dissertation writing table making progress – slowly, but surely. Numerous classmates that had the vision of graduating in or around 2010 posted comments and pictures of their diplomas. The dissertation process took much longer than I had planned, which I should have suspected with my sensitive topic, trying to continue working full-time, and anything else life threw at me during those challenging years. Regardless, I continued wearing that ring.
Fast forward to the fall of 2013…I had completed my program requirements and officially graduated with my PhD on January 31, 2013 and walked the graduation stage in Long Beach, California that spring (with that same class ring still on my finger). That fall, I was going through some items and found my paperwork and the ring box from Jostens that I had received so many years earlier. I went to the Jostens website and was trying to find out if there was an affordable and easy way to get the graduation year changed on my ring, since it was now official. I printed out the form and filled it out – I believe the price was less than $30 to get the year changed on the ring. The completed form remained on my desk for a couple months, and for some reason I did not mail it in. One day, I looked at the completed form and then looked at my ring. I shredded the form and decided to keep the ring exactly as it was.
The reminder of continuing to strive towards my goal, despite being years off about when it would happen reminded me how I achieved so much more in my journey towards that diploma. The growth a person goes through during life experiences, good and bad, is simply amazing. Every time I look down at my class ring now, I'm reminded of that.